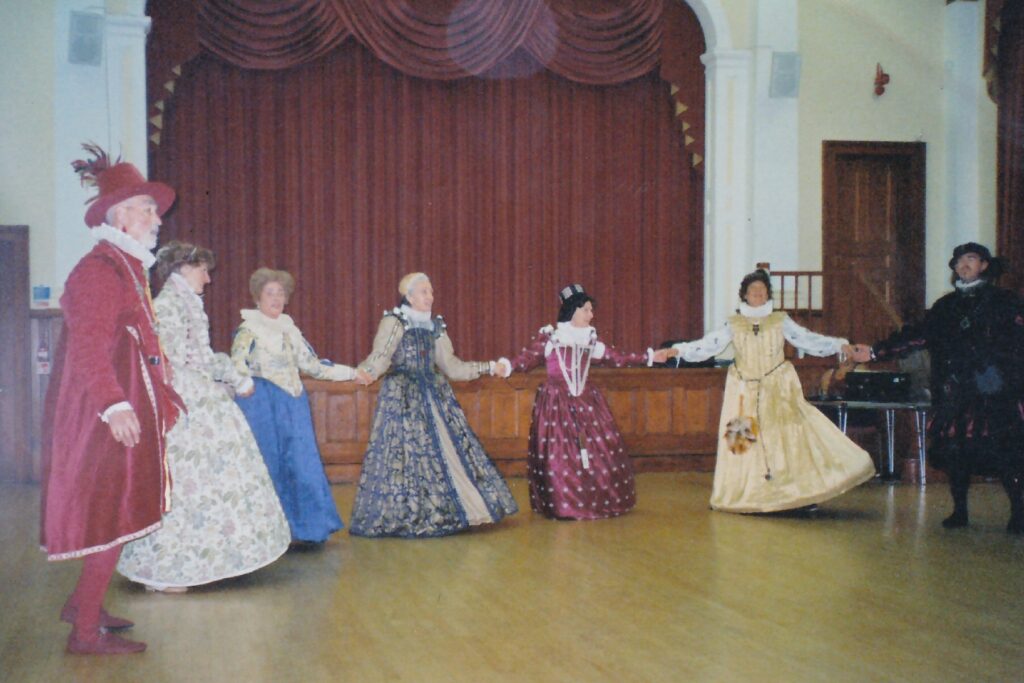 1979 in the early Autumn of that year there was an ad in the News Shopper asking for people to join a group to do some early dance. Peter saw this and wanted to go to find out about the galliard. He belonged to a recorder group at the time that was trying to play galliards and he thought they were not getting the rhythm correct so we arranged for my mum to baby sit our 2 young daughters and we went along.
Chris Rogers was the teacher and we met at the Methodist church hall in Hillcrest Rd. This was held one Saturday afternoon a month. We started with some Tudor dancing and we quite enjoyed it. We were told about a weekend at Little Benslow, Hitchen and we booked to go. We needed Elizabethan costume so I made us something I thought suitable by looking at pictures and listening to Christine's hints.
Anne Daye took the weekend and that was where we met Brenda Bamford. Frances Tucker came with us too. Fired up by this, we started back in the January 1980 with new enthusiasm and the class became fortnightly. Chris gave us a taste of 15th century and of Baroque. Peter came up with name PASTIME for the group and we did our first gig at the Liberal Club in London.
This building has small triangular lifts, only room for one farthingale at a time. This is all I really remember about it.
The big black book which is the register and accounts for Pastime started in October 84. The first register includes:-
Melus Costenbarder
Juanita
Peter and Alison Ede
Roger and Sandra
Claire
Colin
Jenny
Alan Picot
Frances Tucker
Carol Clark of Music Cantiana is also there and later additional names for that page include Francis and Pat Erridge, Brenda Bamford and Dennis Easlea.
In 86 Steve Collins joined us but Brenda and Dennis only put in one appearance. This page also has the first mention of the chicken hut which was along Cudham Lane and a challenging place to go. We moved to Chelsfield where we still are, in the autumn of 87. This year was the first visit to Reigate for Christmas.
1987 was the year of the memorable display at the Tudor Barn, Eltham. By this time Terry and Sheila Gandy had joined us and we were so pleased that Terry brought all his banners so they could cover up the peculiar and disturbed artwork on the walls. Though Terry spoilt all this by walking round with his camera when we were trying to be as authentic as possible. This is also the first mention of going to Melus 's house for a party. Also others joined our number including John Massey, Ursula Adam and Stefan Haberl.
The Following year was when I started to be involved with the administration of Pastime. In June we danced at the Ranger's house as part of the Greenwich Festival. Our daughter Joanna joined us that year and so I had to make costumes for 3 of us. In November of that year we had an AGM at Christine's house.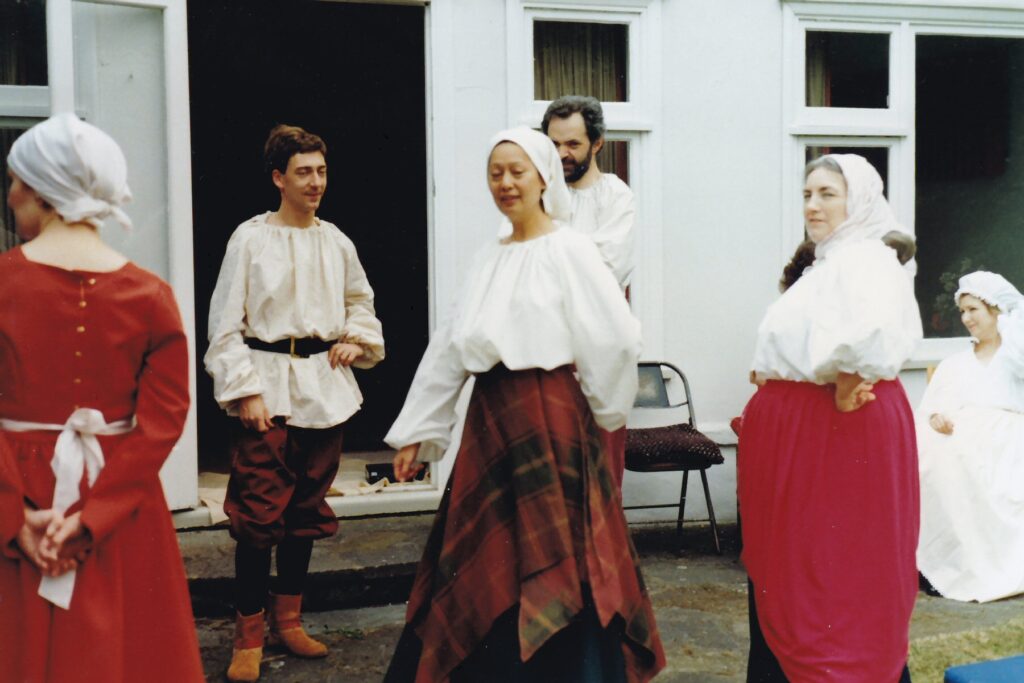 The black book, which gives some information about the early days of Pastime, is very sketchy and not always dated. However, by 89, a little more detail is added. This is the year we danced at Apsley House in April and we had a Regency dance in July. We also had a day course on Rock and Roll. In September we danced at Hammerwood House and we have the first mention of the Early Dance Festival though I know several of us were at the 2nd one, which was held at Camden Town Hall and Belinda Quirey showed her group doing some baroque dancing.
By 1990 Chris was taking a back seat and we had several guest tutors including Philippa Waite in January, Chris taught us in February and then we had Anne Daye followed by Ellis Rogers. Stephan Haberl gave us one memorable afternoon we also had Paula Dene and Peggy Dixon. I remember Peggy's afternoon vividly as she taught us how to be aware of each other so we danced as a team.
As time went by I found I was doing more teaching /reminding Pastime of dances we had learnt. Finding tutors who could come got more challenging because of distances involved so full days and 2 day courses were the answer but these had to be well spaced. The idea of Summer Schools took firm hold after the first one and from 1995 I was arranging these with a tutor.
First I had to find accommodation that was suitable for up to 16 of us and find a tutor all were happy with who could come and whom we could afford. I have always felt that Pastime should pay the going rate. As a former teacher myself I know how much work goes into being properly prepared to take a class.
To be continued…